Brands
The Leaders of Design & Innovation
Meet the companies that we call partners. They form the foundation of our product specifications for homes and businesses throughout West Lake Hills and broader Austin, TX thanks in part to their best-in-class performance and ongoing technological innovation. From smart home technology solutions to conference room automation and more, view their breadth of product offering below.
Experience personalized control for your unique lifestyle with the power of Salt Lake City-based Control4. Connect virtually any device in your home or business to work together, and command them all with customized one-touch controls and scenes from your system remote or smart device of choice. Whether you're home or away, Control4 gives you the power to command and monitor your estate or business in one platform. The transformative benefits of a smart connected home and business with Control4 delivers convenience, peace of mind and an efficient environment that's comfortable and safe.
Experience personalized control for your unique lifestyle with the power of Salt Lake City-based Control4. Connect virtually any device in your home or business to work together, and command them all with customized one-touch controls and scenes from your system remote or smart device of choice. Whether you're home or away, Control4 gives you the power to command and monitor your estate or business in one platform. The transformative benefits of a smart connected home and business with Control4 delivers convenience, peace of mind and an efficient environment that's comfortable and safe.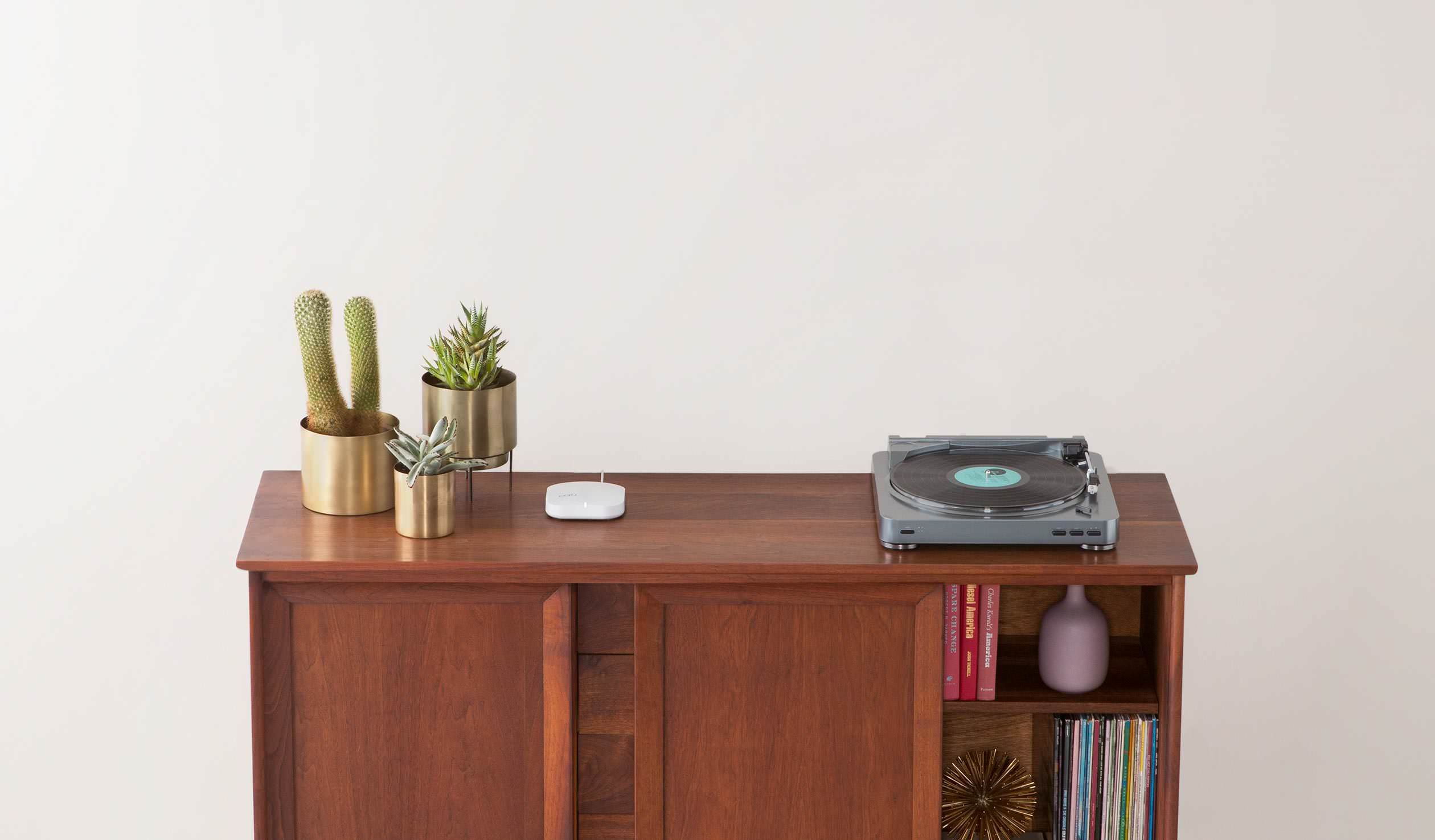 eero, an Amazon-owned company, is an innovative leader in home networking solutions, aiming to make Wi-Fi simple for everyone. They offer high-performing, mesh Wi-Fi systems that replace traditional routers and range extenders. eero's products ensure a reliable, fast, and secure internet connection throughout the entire home, eliminating dead zones. The company's intuitive mobile app allows easy network setup and management. With a mission to improve internet connectivity, eero continues to redefine seamless wireless experiences.
Established in 1999 by audio engineers and craftsmen, James Loudspeaker takes pride in its commitment to innovation when designing high-performance audio distribution solutions for properties in Cedar Park, Lakeway, and around the globe. James Loudspeaker offers lines for luxury homes, marine applications and enterprising businesses alike. Through cutting-edge technology and flawless designs, their products provide unprecedented sonic performance in both indoor and outdoor environments. James Loudspeaker solutions emphasize aesthetics to deliver powerful sound while having a minimal presence in the space. Loudspeakers from all lines include ultra-slim driver technology, adjustable frequency distribution and quad-tweeter arrays. All James Loudspeaker customers receive personal support to ensure a solution that satisfies all their needs and preferences. Choose from a wide range of in-wall, in-ceiling, under eave, landscape, bookshelf and loudspeaker models.
Inventors of the solid-state dimmer in 1959 and now holders of 2,700 worldwide patents, Lutron has expanded their product offering to more than 15,000 products. Lutron makes it possible to craft the perfect atmosphere at home or in the workplace to complement your day-to-night activities with personalized lighting and shading control for enhanced comfort and productivity. Recall your favorite settings from a master keypad or remote to easily transform your environment with just a tap or set your lights and shades to adjust on their own so you can focus on the activity at hand. From the workplace to the home, Lutron provides sophisticated solutions for custom lighting and shading that operate seamlessly at your command.
Optimize your smart home automation and AV systems with a Pakedge networking foundation specifically designed for custom integrations. Relying on a standard commercial or home network installation is not enough in today's world filled with IoT devices. Pakedge is dedicated to delivering enterprise-grade solutions that will ensure optimal performance and reliability from the technology throughout your Cedar Park or Lakeway, TX-area property. Outfit your network with Pakedge products that allow for swift speeds, reduce network congestion and prioritize latency-sensitive systems. Organize traffic via easily adjustable Pakedge zones, embrace PoE applications through their FlexPower technology and avoid latency issues through Pakedge TruStream. Use their remote monitoring services to actively monitor, diagnose and troubleshoot problems as soon as they occur. This will drastically reduce network downtime that could affect a wide range of smart home products.
Elevate your expectations of home entertainment with Samsung's most innovative and advanced range of televisions that offer an impeccable visual and auditory experience for film and gaming enthusiasts alike. Samsung's proprietary Quantum Processor is the mastermind behind their unrivaled QLED 4K and 8K TVs that display a depth of detail, contrast and realism never seen before. Even when not in use, Samsung displays add beauty to your home by transforming into framed artwork or blending into the decorative pattern on your wall, elevating your space while turned on and off.
Unleash the full potential of your home theater with Screen Innovation's masterful indoor and outdoor screen models. Revolutionize your viewing experience with ambient light rejecting screens so you can enjoy your favorite films even during the day. Embrace the big screen experience in a stylish environment with their sleek, zero edge models that fit seamlessly in any space. Now you can even take your screen on the go with the Solo line model featuring a portable cassette and a two-year battery life. Tiles and rear projection screens, meanwhile, allow unique and engaging digital signage solutions for businesses. Recently, Screen Innovations has also released motorized shades for indoor and outdoor use in a wide range of models and colors.
Delight your senses with professional-grade home entertainment solutions designed to harmonize both picture and sound for a breathtaking, true-to-life experience. Unprecedented contrast, color and realism are made possible with Sony's proprietary technologies that also lead in pixel-by-pixel detail for texture you can practically feel. Whether you're outfitting a multi-purpose media room or a dedicated private cinema, Sony's line of premium 4K HDR projectors and TV displays, AV receivers and high-resolution speakers work in tandem to craft the immersive experience intended by film and video game creators.
Bespoke sound solutions from Triad stand apart in an audio industry filled with cookie-cutter products. Relish in superior sound with their high-end architectural speakers designed to integrate elite sound reproduction into luxury living environments. Expertly designed, hand-crafted and installed, Triad audio solutions are ideal for any application ranging from 2-channel to immersive surround sound. All their speakers are built-to-order at their Portland facility to deliver exactly what you need while showcasing all their latest audio technology. Designed using European drivers used by only the top manufacturers in the world, Triad offers the best performance and value. Enjoy a wide range of models available, from their flagship loudspeakers to their more discreet in-wall and in-ceiling varieties.
 Best-in-class sound quality, superior reliability and easy-to-use features are the hallmarks of the Yamaha home theater and home audio experience. Take a dramatic leap forward in audiovisual entertainment with studio-grade AV receivers, soundbars, wired and wireless speakers, turntables and more for the ultimate in audio performance no matter the application. From single-room to expansive whole-building solutions, Yamaha features audio systems and accessories that are built to fit in any space within your home or office. Experience a fully customized soundscape of unsurpassed clarity and tonal accuracy for top tier listening enjoyment every time.


LG's philosophy revolves around people, sincerity, and sticking to the fundamentals. It is to understand our customers and to offer optimum solutions and new experiences through ceaseless innovation, thus helping our customers lead better lives. We are reaching out to discerning consumers with keen sensibilities - people who continue to explore new activities and take on new challenges to experience more and achieve a better life. We have developed our brand image gradually and consistently, always to communicate, "Life's Good." We are contemporary yet authentic, always evolving our fundamental philosophies to the modern arena.
RTI Specializes in advanced control products for automating and operation of audio, video and environmental management systems such as lighting and HVAC. Offering solutions for residential, commercial and transportation applications, RTI products are uniquely designed to meet the needs of the electronics installation professional while providing a simplified interface for the end-user.


Networks have more stringent performance and bandwidth requirements than ever before, and Araknis is the go-to solution for IT experts in both residential and commercial environments. For best-in-class functionality and support, Araknis offers the ultimate dependability through their wide range of networking products. Operate the network seamlessly when you want to find new features, set new security access levels or expand the system. Routers, access points and switches undergo thorough testing in a variety of environments. Diagnose and resolve problems before they become an issue through the company's trademark OvrC software. Using this cloud management platform, we remotely monitor all your network-enabled devices. We'll troubleshoot issues and reboot devices to help you avoid on-site service calls and extensive downtime.
Passionately shaped by decades of innovation and engineering excellence, Denon leads in revolutionary audiovisual reproduction to offer powerful sound and video experiences for entertainment enthusiasts everywhere. Each solution is born from vigorous study of physics, electronics, art and nature to ensure they precisely meet the needs of every consumer. Craft the perfect entertainment experience with Denon's vast selection of home theater receivers and soundbars, wireless speakers, hi-fi amplifiers, CD players, turntables and more. No matter the product, Denon promises superb craftsmanship, precision engineering and impeccable performance for any audio solution you desire in your home.
Over the last 40 years, Audio Control has focused on "making good sound great" through their lines of amplifiers, receivers and preamplifiers. Unlike some other audiophile brands on the market, Audio Control does not just focus on amped-up specs. Their goal is to improve customers' lives by delivered stunning audio the lets them recreate a concert hall or theater environment in their own home. As the heart of your home theater, their receivers deliver fully immersive sound as well as 4K video resolution. Knowing how important it is to get high-performance audio beyond a few dedicated rooms, they have a full line of multi-zone amplifiers that deliver excellence throughout your house. Even outdoor applications aren't out of the question with their powerful line of 70-volt amplifiers.
Founded in 2004, California-based Ruckus offers a complete line of high-performance network infrastructure, including wi-fi controllers, indoor and outdoor access points, wired Ethernet switches and more, for enterprise environments and service providers. Ruckus' deep history of and continued commitment to technical innovation ensures superior and ubiquitous connectivity for its customers. No matter the size of the project, Ruckus promises products that are readily available, flexible, and easy to use for unwavering connectivity in the most demanding environments. In addition to their world-leading network access infrastructure, Ruckus offers network security, detailed analytics, management software and award-winning customer support. When connectivity matters most, turn to Ruckus.
Start Your Journey to Smarter Living
Connect with us to learn more about how these industry-leading brands work together to create your dream smart home or business.